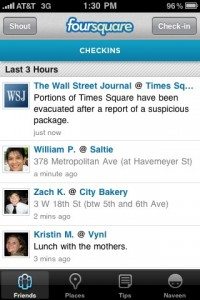 When the Wall Street Journal used Foursquare to report that New York's Times Square was being evacuated, the location-based social network proved its worth as a tool for journalists. Foursquare, Gowalla and other services let users "check in" at specific locations thanks to the built-in GPS on mobile phones. Originally designed as a cross between friend finders and games, these geolocation apps are the latest type of social network to find their way into newsrooms. How can you take advantage?
Lost Remote's Steve Safran sees three main ways to harness the power of Foursquare:
Find sources and tips in specific locations during breaking news
Distribute content or information about specific locations where people are
Establish new connections between the audience and your news team
Yes, you can use Twitter to find sources during breaking news, but Foursquare provides another option. And it offers a new angle, as well. On Foursquare, the person who has checked in to a location most often is given the title of "mayor" and is likely to be an expert. So, for example, when the Staten Island Ferry crashes into a dock, you might want to interview the "mayor."
In the case of a natural disaster, Safran suggested, a news organization could set up a "branded" location nearby and ask people to check in with reports of what they see.  For weather coverage, Foursquare could become a source of micro-local information.
News organizations including the New York Times and San Francisco Chronicle have partnered with Foursquare to provide tips on local restaurants and businesses. If you follow them, you'll get information and links when you check in at locations they've reviewed. Using the service for entertainment news is a no-brainer, Safran says. "It uses editorial content you have created and adds a new layer of content distribution."
Finally, Safran suggests that newsrooms could create their own "badges" for Foursquare–essentially rewards for people who check in multiple times at the same location–as a way of building loyalty.  The Wall Street Journal has already done it.
Mashable suggests even more ways for journalists to use Foursquare, including learning about people you're profiling. If they'll agree to "friending" you on Foursquare, you can learn a lot about them from the places they frequent. "Call it 'opt-in stalking,'" the report says.
You might also like
---