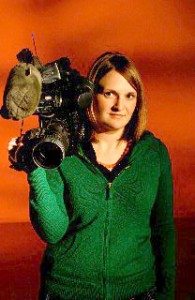 TV photojournalist Anne Herbst does a lot more than shoot and edit. She writes a lot of stories, too, but unlike other solo journalists at KUSA in Denver, she doesn't voice them. "My husband says I sound like Kermit the Frog," Herbst told participants at the 2010 Northwest Video Workshop.
So Herbst has found other ways of getting her stories told–mainly by having reporters read the scripts. "I always assume a story is going to be written," says Herbst, who does only a few nat sound packages a year.
How does she do it all? Here are some of her best tips:
1. Pitch stories. Herbst tries to read every news tip that comes in to KUSA. That can add up to a thousand a day, but it's worth it to find one good story idea. She also finds stories by checking Craig's List and listening to conversations at coffee shops. And she networks all the time. "I call my contacts probably a couple of times a week or check in by email and they're actually calling me now," Herbst says.  "I go to editorial meetings, I pitch story ideas all the time and because I do that I kind of get to do a lot of what I want."
2. Shoot efficiently. "Make sure your shots count," Herbst says. "You don't want to be fishing through shots that are shaky at the beginning or end." Mark bars or flash a hand in front of the lens when you know you have something great so you can find it quickly when logging. "At the end, I shoot 10 or 15 really tight shots, so I've got something to go to if I get in a rush."
3. Develop a comfort zone. While setting up, Herbst doesn't talk about the story. "I want [people] to get to know me," she says. "It's awkward when you're alone. Become comfortable talking about yourself."  Because she's low key, she believes she gets better SOTs. "I act confused and they help me," Herbst says.
4. Log carefully. Go through everything you have. "If I have three hours to log and write I will give more than two hours to the logging." Herbst doesn't just log interview bites, she logs nats and even facial expressions. With a good log, she says, "the writing goes really quick."
5. Ask for help. If you're working by yourself, Herbst advises giving your script to someone else in the newsroom to read. "Give it to a few of your favorite people to check out. It's going to make you better." Herbst says she wants viewers to think that whoever voices the script actually wrote it, so she's more than willing to let reporters change things. "They add something to my scripts and I appreciate that."
Herbst must be doing something right. She's been at KUSA for just five years and already has some regional and national NPPA awards to her name.  Here's a sample of her work:
Update 1/24: Herbst emailed to say she didn't write this particular story, which she called "a total team effort." She did, however, write this one:

You might also like
---