Television has a bright future if it can adapt to the times and focus on its brand, its consumers and the technology its viewers have chosen, says a veteran industry executive.
"The brand is not television," Hank Price said. "Television is an extension of the brand. We are not in the television business but in the local information business. That is why people are watching us."
Price's long career includes serving as president and general manager of WVTM 13 in Birmingham and WXII 12 in North Carolina. He was vice president and general manager of WBBM-TV, the CBS-owned television station in Chicago, and is considered a turnaround specialist, skilled at bringing distressed organizations to success.
He also has written two books, "Managing Today's News Media: Audience First" and his newest, "Leading Local Television."
In discussing the future of the medium, Price calls for changes such as a closer focus on brand, a new model of content for a newscast and an identification of the most valuable loyal viewer.
Price advises stations to narrow their focus and not be distracted by efforts that do not advance the brand. Technology, for example, can be distracting if the station puts a premature emphasis on adopting it.
"Technology for technology sake is worthless," Price said. Instead, he believes it is the content that is most important, and strong content will naturally move to the latest technology that is chosen by the consumer.
Price cites the iPhone, which was introduced in 2007, as the most recent biggest technological advancement. He says that it is not always profitable to jump to the latest technology if consumers have not unanimously accepted it.
"You have to have a vision that other people will buy into," Price said. "It has to be something that is not being done in the market."
What usually happens in television, he says, is that the top station serves as a model that the other stations try to emulate.
"You end up with a homogenized product," Price said. "You have to have your own standard that has nothing to do with anyone else and build a brand that the consumer values, trusts and believes in to be loyal to that brand."
Television stations can move past how something has always been done or what the culture dictates television should be. Price defines this status quo with the formulaic way of setting up a station: two anchors at a desk, a chief meteorologist and a sports director, and the oftentimes redundant relaying of information that struggles to attract a younger audience.
When severe weather or an emergency occurs, younger viewers will typically learn about it on their phones and then tune into television to watch the radar or receive the latest updates. When viewers turn on the television, however, they are met with the old formula that turned them off in the first place.
"You see the same boring reasons you chose not to watch, therefore reinforcing your decision not to watch television news," Price said. "Why? Because we're producing a product we perfected 30-40 years ago and not changed. Technology has changed, but the product has not changed."
Throwing everything out is not the answer, he says, because it will alienate the loyalists and give young viewers no incentive to watch. Instead, Price suggests that a station slowly and carefully modernize its product by reflecting on why the station does the things it does.
Packages are unnecessarily drawn out, reiterating the same information in increasing detail. His solution is to have more news stories delivered faster. That way the station can fit in three to four times the number of stories.
"If you want to create the future, you have to do it from a position of strength," Price says. That applies especially to the most popular stations, which he says should change their model to be more thoughtful, fast paced, minimally redundant and interesting enough to keep the viewer locked in.
According to Price, stations have one viewer who is the most valuable to reach and maintain: a woman between the ages of about 32 and 55 who is busy, tired and juggling the responsibilities of work and motherhood, but who is empowered by choice and connectivity.
She almost always has her phone with her and can use the small amount of time she has to herself each day to consume the media of her choice.
"If you are going to create a product for her, you have to live in her world," Price said. "What does she want to know? She wants to know her family is safe—that's weather. She wants to know something about the world, that she has some control."
If television finds a way to include her by offering up her needs, he says, then television journalism can move forward.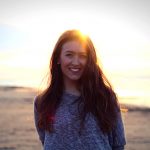 Jacqueline Schlick is an Orlando native who found her voice in the deep south. She graduated from the University of Mississippi with a creative writing degree and will complete her master's in journalism in 2019. She serves as the public relations director for Ole Miss Bands and as the Communications Manager for the university's Division of Diversity and Community Engagement. Upon graduation, she plans to attend law school and work within the intersection of journalism and the law.  
You might also like
---