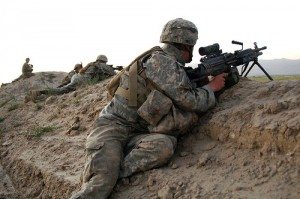 No one disputes the fact that American casualties in Afghanistan are newsworthy. But should video and photos of US soldiers killed in that war be broadcast or published? The Pentagon has been trying to keep those images out of the news since the AP published a photo of a wounded Marine who later died. After first declaring that photographers would be banned from taking any pictures of dead Americans, the Defense Department retreated somewhat. But the new rules issued last week for embedded journalists aren't much more permissive.
Media will not be prohibited from viewing or filming casualties; however, casualty photographs showing recognizable face, nametag or other identifying feature or item will not be published. In respect to our family members, names, video, identifiable written/oral descriptions or identifiable photographs of wounded service members will not be released without the service member's prior written consent. If the service member dies of his wounds, next-of-kin reporting rules then apply.
That language could prevent almost any photo of  dead or wounded US troops in Afghanistan from being published or broadcast. And it's a drastic change from the way the war has been covered since 2001.
Carl Prine, a military reporter for the Pittsburgh-Tribune Review, told Politico he's baffled by the new policy.
The question has to be asked: are you trying to censor this war? We've been doing this for eight years now–eight years, and now you're trying to change it? If an American soldier dies in a car accident in the U.S., you can photograph him, but in Afghanistan you can't?….If there's one place no expects privacy, it's on the battlefield.
Even the rewritten policy clearly goes too far. It has all the earmarks of a blatant attempt at prior censorship by a Pentagon looking for any excuse to keep a lid on the increasingly bad news from Afghanistan.
The restrictions cover only those journalists who are embedded with US troops, giving them what the Pentagon calls  "unfettered access" to the soldiers. But the policy puts unacceptable shackles on that access. As Lucy Dalglish, executive director of Reporters Committee for Freedom of the Press, told the AP, "I'm really concerned about the government deciding what's newsworthy, instead of a news organization deciding what's newsworthy."  Me too.
Ethical journalists make tough decisions every day about whether to air graphic or disturbing video. They consider the impact on the subjects of photographs, their families and the community at large. Sometimes they hold back. But the decision on whether to do that should be based on journalistic criteria. The American public deserves to know that US soldiers are dying in Afghanistan, and images bring that story home more powerfully than words. For journalists to let the government sanitize the story would be to let the American people down.
You might also like
---