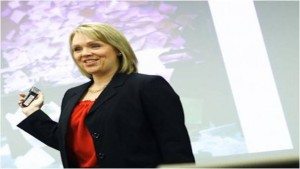 What started as a means of keeping in touch with her pre-teen daughter has transformed TV veteran Amy Wood into a new kind of anchor—an interactive one.
After trying live chat at home last year, Wood convinced her managers at the Media General duopoly of WSPA-TV and WYCW-TV in Spartanburg, S.C., to let her chat live with viewers on the air. The first night she tried it, only one person chatted back. But by the end of the week, there were 15 respondents in the chat room and Wood was hooked on social media.
"It's a powerful way to reconnect with viewers," Wood says. "It creates an engaging conversation that draws them in."
In addition to daily live chats conducted during packages, sound bites and commercial breaks throughout the 10 p.m. newscast on the CW station, Wood blogs at WSPA.com while she anchors the 5 p.m. and 6 p.m. broadcasts on the CBS affiliate. At 7 p.m., also on CBS, she highlights messages from users in a special segment called "What You're Saying." Off air, Wood is on Facebook, MySpace and Twitter, and she's constantly trying new social media tools to connect with more people, more efficiently.
From interactive anchors to once-unthinkable business partnerships between rival stations, TV and radio newsrooms are reinventing themselves in an effort to stay relevant and profitable. Facing the worst advertising market in decades as well as eroding audience bases, stations across the country are being forced to innovate.
Media Immersion
One of the most sweeping and controversial makeovers is under way at WNBC-TV in New York, where the newsroom has become a "digital news content center." The updated newsroom will support WNBC's TV and online news, a new 24-hour New York news-and-lifestyle channel, and electronic billboards and other screens located everywhere from gas stations and sports arenas to commuter trains.
As part of a more than $10 million redesign, the NBC-owned station rewrote job descriptions, added new technology, retrained staff and re-engineered the newsroom workflow. Gone are the familiar off-air positions of writer, show producer and executive producer. In their places are content producers, platform managers and day-part managers.
"It's a significant transformation of the news business," says WNBC President and General Manager Tom O'Brien. "It's our chance to really reach the audience as they live their days."
At the heart of the redesign is a new digital production system that streamlines distribution to multiple media platforms. O'Brien says it will make the newsroom more productive.
"This is a way for us to better serve the audience in the tri-state area," he says. "The best route for the station to flourish is to increase its relevance to the audience and the marketplace by being available everywhere they are."
An Unlikely Alliance
Another radical shift is under way in markets where both NBC and Fox own stations. The trend started in Philadelphia as an attempt to save money while gathering video, says Sharri Berg, senior vice president of news operations for Fox Television Stations. The first step was to share a helicopter for aerial footage.
"Much of the time you're sending a chopper up to the same place, spending all the resources and fuel, to capture the same shot," she says.
Now, the Fox and NBC stations in several markets are sharing helicopter video, and in Philadelphia, the stations have joined forces to form a broader local video news service that feeds footage to both outlets.
"It gives news directors more options on how they use their staff," Berg says. The Fox and NBC O&O stations in additional markets expect to unveil similar partnerships later this year, and eventually that service will be made available to other local media around the country.
Alone on Location
Although backpack journalism isn't a new concept, it's spreading rapidly as stations look for ways to trim costs. At WUSA-TV, the Gannett flagship in Washington, all reporters and photographers are now considered multimedia journalists. Equipped with lightweight cameras and laptop computers, they are beginning to report, shoot, write and edit their own stories in the field.
News Director Lane Michaelsen says the overhaul doesn't just affect field crews. Everyone at the station, from producers to desk editors, will be required to develop beats, build source lists and generate news.
The changes at WUSA echo what the Young Broadcasting stations in Nashville, Tenn., and San Francisco did more than three years ago. Their transformation to all-videojournalist newsrooms hasn't paid off in the ratings, but it has made way for more experimentation.
"People expect we're going to be throwing new stuff at them, and they're great at adapting to it," says Brian Shields, online news manager for KRON-TV in San Francisco.
In addition to feeding news packages via WiFi from coffee shops, the station posts updates to its website in real time using the blogging software CoveritLive. They've used it to cover breaking news and special features. And since December, the station's "financial guru" Rob Black has blogged live five days a week during the 4 p.m. newscast, answering questions from viewers.
At KIFI-TV in Idaho Falls, Idaho, innovation means saving money while getting more live news on the air. The station pioneered the use of broadband WiMAX technology to go live from places microwave signals can't reach.
Instead of buying or leasing a $400,000 satellite truck, KIFI spent less than $12,000 equipping an SUV to send live video using a local wireless Internet provider that guarantees high-speed uploads. In December, the station got its first-ever live shot out of Jackson, Wyo., where a skier was killed by an avalanche.
Other stations are using the Internet phone service Skype for live shots. The quality isn't perfect, but the software is free. And if you can get online, you can get on the air.
But cost isn't the only reason to try Skype, says Shane Allen, assignment manager at KXAN-TV in Austin, Texas.
"We use Skype in lieu of long cable runs into buildings and for breaking news where getting a truck there and tuned in will take too long for on-air live coverage."
Moving to Microsites
Online innovation has been a matter of trial and error at WSYR-TV in Syracuse, N.Y., says Director of News and Content Jim Tortora. "I don't want to pretend I have a magic formula—except to give people what they want and put it where they can find it."
One successful solution has involved creating focused microsites for content that might never make it on television. These sites include a section for lost pets and a local crime tracker that has its own URL, OnTheLookout.net. Producers are assigned sections to update daily.
"It empowers our viewers, and it doesn't break the bank or the staff," Tortora says. It also helps draw traffic to the station's website, which has 25 percent more users than the entire population of the local market.
Making Ends Meet
When public radio station KALW-FM in San Francisco lost most of its freelance budget this year, News Director Holly Kernan decided to try something entirely new: Spot.us, a nonprofit that funnels public donations to Bay Area journalists who pitch stories online.
Kernan put up $150 of the $400 requested by reporter Chris Hoff to produce a two-part story on sewage, the first radio project Spot.us has funded.
"Spot.us is a way for us to work with freelancers for less," Kernan says. "I'm excited about the possibility, but we're all just feeling this out as we go along."
KALW is stretching its budget in other ways as well, including training students from Mills College to work on major reporting projects. And the quality of the students' content has been recognized on a national scale. In 2007, the students won a professional Sigma Delta Chi award for their radio documentary, "The Dropout Dilemma."
Student programs are popping up elsewhere, as stations look for ways to get more bang for their buck. In January, Boston University launched a center for investigative journalism to produce stories for local media outlets. The students work under the direction of former WBZ-TV reporter Joe Bergantino, who hopes to create "a model for nonprofit, multimedia, investigative journalism that could be duplicated nationwide."
Sharing the Wealth
Building revenue is another huge challenge in a recession. Some station groups are increasing funds by insisting on higher re-transmission fees from competing cable and satellite systems. And all broadcasters are seeking ways to make more money online.
The key to success, however, is moving beyond the traditional ad-supported content model, says Terry Heaton, senior vice president at the media strategy company AR&D.
"Media companies continue to 'sell advertising' on their own properties, which just isn't going to cut it long term," Heaton says. "The answer is to create a local ad network and serve advertising on local websites beyond your own portal site."
CBS-owned stations from Boston to Los Angeles have worked with the Syndigo division of marketing company Seevast to do just that. In Dallas, for example, Seevast connected KTVT with The Landry Hat, a local sports blog dedicated to the Dallas Cowboys. By embedding KTVT sports headlines and ads on the site, The Landry Hat shares in the station's online ad revenue while driving traffic to the station's website.
"It's a natural extension of their brand identity and values," says Jaan Janes, Seevast's president of business and product development.
Belo Corp. is taking a different approach by looking at a stand-alone Internet marketplace, according to Peter Diaz, executive vice president of television operations. Although he's keeping the specifics under wraps, he implies the company would play the role of facilitator in the new venture.
"Imagine a real estate site where agents, lending institutions, consumers, brokers and retailers conduct business all enabled by a local broadcaster—and we take pennies from each transaction," he says.
Only about five percent of Belo's revenue comes from the web now, Diaz says, but it's growing at a double-digit clip.
WTOPNews.com in Washington is also making money online—$2 million in revenue last year alone. Jim Farley, the radio station's vice president of news and programming, credits the sales staff for never giving web ads as a bonus for buying on-air spots.
"They all get it," he says. "The future is digital. Simply being a radio station is not enough any more."
As in many newsrooms, all WTOP staffers are expected to help feed all platforms, but they have a financial incentive to do it.
"Everyone in the building is bonused on radio ratings and web goals," Farley says. "You're vested in the success of the other enterprises."
There's no single formula for reinventing the content or commerce of broadcast news, so stations everywhere are trying to figure out what works, one step at a time.
"Everyone is reinventing," Belo's Diaz says. "Everybody's writing this as they go along."
Tech Support
Free and inexpensive software helps newsrooms make the most of their online content. A few popular tools include:
Ping.FM: Updates multiple social networks at once
CoveritLive: Facilitates live blogging, breaking news coverage and online chatting
12Seconds: Sends short video updates
Skype: Transmits live video
Publish2: Shares news links
Sproutbuilder: Creates widgets and mash-ups
Originally published in RTNDA Communicator, March/April 2009
You might also like
---