A comparison study of live and taped reports
By Charlie Tuggle, Dana Rosengard and Suzanne Huffman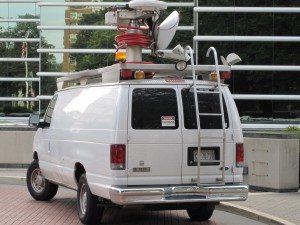 In terms of manpower and direct costs, live reporting is expensive. Satellite truck and microwave units, overtime for photogs and truck operators, and other costs can add up quickly. The key question is: Does the benefit justify the cost? The answer is yes – and no.
A survey of 500 viewers in North Carolina and Texas shows that viewers are discriminating when it comes to the use of live technology. Most (85%) say there are times when live reporting enhances coverage. But 88% say there are times when live reporting is meaningless. Obviously, for the percentages to be so high, many people agree on both counts. Viewers who responded to our survey seem quite adept at identifying legitimate and gratuitous uses of live technology.
Beyond what viewers say they think about live reporting in general, we wanted to find out how they rated stories done as taped reports with a live open and/or close, and the same stories done as straight packages. In 2000, WCVB-TV/Channel 5 (ABC)/Boston provided an air-check of an A-block, and provided anchor leads and reporter standups to replace the live elements in a second version of the newscast, edited by NewsLab. The three stories were about a major dip in stock prices, originally presented live from the Boston Stock Exchange; an update about the Elian Gonzalez custody battle, originally reported live from outside the Miami relatives' home; and a preview of the Boston Marathon, originally reported live at the finish line.
We showed groups of viewers one of the two tapes, and asked them to rate the stories on seven measures: informative, understandable, interesting, useful, entertaining, easy to follow and made sense. There was almost no difference between ratings given by the two groups. Only the oldest people in the sample placed any value on the stories being live, with one exception. Some younger people gave the Elian story higher ratings when it was live. Men between 37 and 55 said the live version of the story was more informative than the edited story. Women in that age group judged the live version as more informative, more useful, and easier to follow. Men between 56 and 74 thought the live version was more useful and more interesting. Men 75 or older said the live version of the story was more understandable and more useful.
The question that raises is: What makes the Elian story different from the other two? First, it was a live report from outside the local (Boston) market, about a major news event. Second, something could have happened at any moment to change the story. The same wasn't true of the other two stories, as stock trading had ended for the day and the marathon was three days away. We feel comfortable concluding that live reporting has value only for some people, and only some of the time.
There were more women than men in our sample, and 74% of the people we surveyed were between 18 and 55 years of age. The average age was 40. Most aren't regular watchers of local news, as 65% say they watch only sometimes, rarely, or never.
We surveyed these viewers to find out if live reporting is a factor in their decisions to watch particular stations. It isn't. Only a small percentage of respondents say they know which station in their respective markets goes live more often than its competition or is first with coverage of a particular breaking news story. Very few say they base their viewing choices on such factors.
We wanted to find out what viewers see as positive and negative aspects of live reporting. Almost 85% of respondents indicated that live reporting can enhance a station's coverage of a news story. Nearly as many (81%) said that reporting live from the scene gives the story a sense of immediacy and more than half (59%) said that use of live technology leaves them with the impression that the station is "on top of the news." Nearly half (49.8%) indicated that live reports add context. Viewers noted the greatest benefit they derive from live coverage is being brought up-to-date on breaking news such as natural disasters, accidents, fires, and severe weather. One wrote: "When there is a true need for it, nothing is better."
But many viewers wrote that they think live coverage is used when there is no true need for it. A majority of viewers in the sample seem to think that, at times, events get covered because they happen close to or during the news hour, and that coverage sometimes lasts beyond the true life of the story. They also believe other stories get pushed aside and that the live element takes up too much of the time allotted to stories, which exaggerates the importance of the stories. They think news operations get carried away with the technology and try to find excuses to use the expensive equipment, saying that live reports become filler when the only apparent purpose for reporting live is "to burn time." They think live coverage is often an attempt to make something interesting when it isn't, and that technology creates a "pack mentality" in which crews camp out on one story rather than reporting on a wider range of events.
Their most vitriolic comments were reserved for what have been called "black hole live shots." One wrote that it sometimes looks as if the station initially missed the story when a news crew is on the scene hours later, and believes that's condescending to viewers and makes the reporter and the station look lazy. As example of meaningless uses of live technology, viewers mentioned reporters standing in the rain in front of someone's house for no reason, standing on the side of a non-descript highway with traffic flowing normally behind them, reporters still on the scene of a shooting or court hearing hours after everyone else had gone home, and a live report from an empty sports arena to preview the next night's game. Of such uses of live, one viewer wrote: "Here we are at the corner of such and such where three hostages were held earlier (about 12 hours earlier) today. Big deal." Another wrote: "No one wants to watch water boil. I want to see action." Still another noted: "Live reports have a place, but not when nothing is happening."
Most viewers who answered this survey say that live reporting is best used for breaking news, or when being on the scene helps advance the story. They appear to have very little regard for "black hole" live shots, suggesting that news operations would do better to use money and resources now devoted to live technology to hire more people and come up with more diverse content.
---
References:

1. Charlie Tuggle, a former local news producer, teaches broadcast journalism at the University of North Carolina in Chapel Hill, NC. Dana Rosengard was a graduate student at UNC-CH at the time of this study. Suzanne Huffman, a former reporter and anchor, teaches at Texas Christian University in Fort Worth, TX.
You might also like
---