When I took a spin through the first 200 or so news apps on the Apple Web site earlier this year, WKRG in Mobile, Alabama, was the only local TV station featured. So, why is that? It may be that many local news organizations are not yet trying to capitalize on the mobile audience.
David Rencher, interactive media director for WKRG, a Media General-owned station, thinks that's a mistake.
"Well,the way I see it is that we can't just look at ourselves as a TV station," Rencher said. "We are a content creators and we have to provide that content on whatever platform the user wishes to consume it."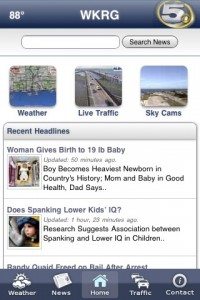 So, Rencher went to work to find out how to reach the WKRG audience on their mobile phones.
"I first started to look into how to write native applications for the iPhone but after learning x-code and giving it a good deal of thought I decided that a web app would be a better delivery method for an information site such as ours," Rencher said."With a web app we could make the changes to our layout and structure immediately without going through an [Apple] approval process."
The downside is that web apps are not available in the App Store, so Rencher developed an iPhone app that essentially loads the station's web app automatically.
"Most users would never know it is not a full native iPhone app," Rencher said."Having complete control of the app and not having to wait on update approvals is important for a business like ours. The ability to make immediate changes allows us to react to breaking news and weather situations instantly."
For instance, Rencher says in the case of hurricane coverage, the station could customize the app to predominantly display information related to that hurricane.
"During such events, like a hurricane, mobile phones may be the only way a user is able to get information," Rencher noted.
Vice President/Managing Editor for the Associated Press Lou Ferrar is also targeting audience on the go. He recently shared what he called"the best stuff we know about mobile to tell the world right now." In an online seminar for Poynter's NewsU, Ferrar said that in the mobile space, the consumer really is king.
"If you don't deliver for them, you don't get them," Ferrar said. He went on to describe what the AP has learned about the mobile news audience.
They're impatient, so speed is crucial. That means no waiting for a slow app to load.
They're vocal. They will readily share with others their dislike of a poor user experience.
They dislike ads, but they still want the content for free.
If you don't deliver, they'll drop your app and find another.
On the plus, side Ferrar said that 94% of iPhone users, in particular, seek out news and information on their phones. They're particularly interested in breaking news and major stories – no surprise, and they also seem to have a strong interest in entertainment news.
While Ferrar understands why many small or medium-sized news organizations may not be developing their own apps, he also sees this as a great opportunity for a news organization to develop a niche application, say in high school sports coverage — then capitalize on that to become essential to the audience with a desire for that type of information.
Rencher saw the opportunity for his station and grabbed it.
"With over 30 million iPhones out there and and over a million Android/Google phones, it was a necessary step to provide a delivery platform for these types of mobile devices."
You might also like
---